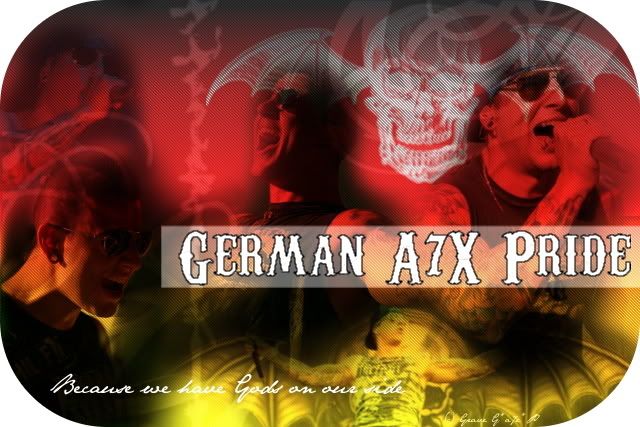 Avenged Sevenfold membatalkan konser mereka di Jerman dengan alasan tertentu. Zacky menyatakan kalau sakit yang tiba-tiba membuat mereka terpaksa membatalkan konser mereka di Munich. Berikut pernyataan Zacky tentang batalnya konser mereka di Jerman :
Kami sangat menyesal untuk pembatalan Tonights Show di Munich. Karena penyakit tiba-tiba dan tak terduga kami dipaksa untuk membatalkan. Kami terpaksa membuat keputusan ini saat kami duduk di belakang panggung sampai saat sebelum pintu-pintu terbuka. Kita telah begitu bangga dengan dukungan fans kami dan terutama telah melihat ke depan untuk bermain untuk fans Jerman kami. Kami semua merasa "mengerikan" dan akan membuat itu (pembataan) kepada semua fans kami. Dengan permintaan maaf tulus.
Zacky
A7X
Germany version
Uns tut es sehr leid, dass wir die heutige Show in München absagen mussten. Wir waren wegen einer plötzlichen und unvorhersehbaren Erkrankung zu dieser Entscheidung
gezwungen
. Es kam zu dieser Entscheidung als wir Backstage saßen, kurz bevor die Türen geöffnet werden sollten. Wir sind so stolz auf die Unterstützung unserer Fans und haben uns ganz besonders darauf gefreut für unsere Deutschen Fans zu spielen. Wir fühlen uns schrecklich und werden es wieder gut machen. Wir entschuldigen uns aufrichtig.
Zacky
A7X
English Version
We are very sorry for the cancellation of tonights show in Munich. Due to a sudden and unforeseen illness we were forced to cancel. We were forced to make this
decision
as we sat backstage up until the moment before
the doors
were to open. We have been so proud of our fans support and have especially been looking forward to playing for our German fans. We all feel
horrible
and will make it up to all our fans. With sincerest apologies.
Zacky
A7X